Ney Pathiri Recipe – Neypathal Recipe – Deep Fried Rice Roti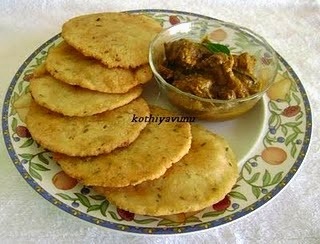 Ney Pathiri Recipe – Neypathal Recipe – Deep Fried Rice Pancake


Ingredients :
Rice Flour /Puttupodi : 2 cups
Fresh Grated coconut : 1 cup
Shallots/Pearl onions : 4-5
Jeera/Cumin : 1/2 tsp
Fennel seeds : 1 tsp
Water : 2 cup
Salt to taste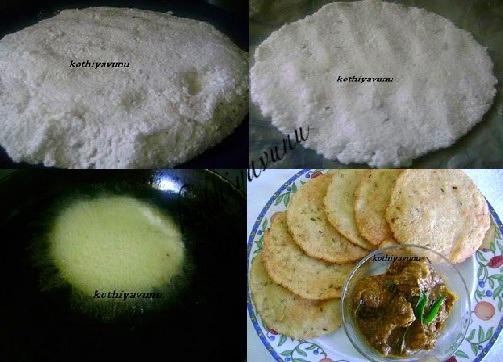 How to make Ney Pathiri – Neypathal :
1. Boil water add salt and simmer heat, slowly add rice flour/puttupodi and combine well with a spoon, remove from the heat close with a lid and keep it aside.
2. In a blender add coconut,cumin,fennel seeds and shallots and pulse it for one time. (Note : Its should be just crushed)
3. When it is still warm, but manageable to knead, knead well with hands to fine dough without adding water. (Note : If needed wet your hand, don't add water)
4. Add the ground mixture and mix well. The mixture should be firm enough to make a ball out of it and flatten it
5. Smear the fingers and palm with oil to avoid the dough sticking to the hand and make small balls of the dough.
6. Roll it into thick discs(like thick pooris) using a rolling pin. Dust with rice flour to help in rolling out.
7. To make exact round shape,cut the edges with round cutter or a lid and make them in perfect shape.
8. Place tawa on medium flame,when it hot,slide pathiri into the hot oil after sometimes it will float on top and puff up.As soon as it puffs up, flip it over and fry both sides until golden and crispy.
9. Serve with chicken curry or any curries and Enjoy!